Universal Air Products offers the complete line of Goyen ® Millennium '3' Series Reverse Jet Pulse Dust Collector Valves.
Millennium '3' Series Diaphragm Valves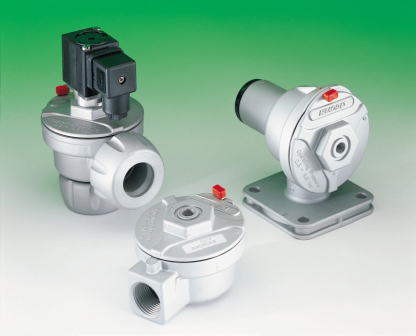 Description
Superior performance, easy maintenance diaphragm valve available with threaded ports (T3 Series), dresser nut ports (DD3 Series) or flange and slide ports (FS3 Series). Outlet at 90 degrees to inlet. 3 Series valves are available as remote pilot valves and may be converted to integral pilot applications through the use of the screw in pilots of the MIP and 3DS series. All 3 Series valves are supplied with CASTEC ® protection, offering 500 hours resistance to salt spray.
'3' series valves are available in 3/4″, 1″ port sizes.
Suitable for:
Dust collector applications, in particular for reverse pulse jet filter cleaning and its variations including bag filters, cartridge filters, envelope filters, ceramic filters, and sintered metal fibre filters.
Construction
Body: Aluminum
Seals: Nitrile or Viton (diaphragms reinforced)
Spring: 304 SS
Diaphragm Seat: PA-6 (standard), Viton coated mild steel
Surface Protection: CASTEC®
Features
Range of sizes and configurations for flexibility in system specification.
Engineered and tested for optimal performance and durability.
Reduced number of valve fittings necessary.
Solenoid coils available in standard AC and DC voltages.
Complies with current regulations.
Spare parts kits readily available.
Do you have an immediate need to repair your broken Millennium '3' Series diaphragm valve?
We can ship next day air from stock all repair kits for your valves used in your dust collector.
Repair Kits
Buna / Nylon
UAP Part Number
Goyen ® Valve Model
Series
Note
Pipe Size
Repair Kit
8004543
RCAC20
T3, ST3,
DD3, FS3
+
3/4"
K2016
8003556
RCAC25
T3, DD3,
FS3
+
1"
K2529
8006649
RCAC25
T3, DD3,
FS3
+
++
1"
K2549
++ - Shockwave Diaphragm (Springless)
'3' Series Pilot Operator Repair Kits (CA valves only) (Buna)
UAP Part
Number
Goyen ®
Valve Model
Note
Pilot Operator or
Coil Repair Kit
8004915
3DS-301 100/120V
#
8000955
Solenoid Kit
K0380 (M1131B)
8005035
COIL QR 100/120V 50/60HZ
#
G601207-103
# Call for other voltages
'3' Series Dresser Seal Kits (Buna)
UAP Part
Number
Goyen ® Valve Model
Pipe Size
Seal Kit
RCAC20DD3
3/4"
K2018
8007177
RCAC25DD3
1"
K2533
Viton
UAP Part Number
Goyen ® Valve Model
Series
Note
Pipe Size
Repair Kit
8005242
RCAC20
T3, ST3,
DD3, FS3
+
3/4"
K2017
8005005
RCAC25
T3, DD3,
FS3
+
1"
K2530
+ - Screw on Top
'3' Series Pilot Operator Repair Kits (CA valves only) (Viton)
UAP Part
Number
Goyen ®
Valve Model
Note
Pilot Operator or
Coil Repair Kit
8004915
3DS-301 100/120V
@ #
8004228
Solenoid Kit
K0384 (M1167B)
8005035
COIL QR 100/120V 50/60HZ
#
G601207-103
@ Must also purchase and retrofit with K0384 to make Viton
# Call for other voltages
'3' Series Dresser Seal Kits (Viton)
UAP Part
Number
Goyen ® Valve Model
Pipe Size
Seal Kit
RCAC20DD3
3/4"
K2019
RCAC25DD3
1"
K2534